An inground swimming pool is an investment in fun and recreation. As with any other investment, a smart purchaser will want to understand the overall costs that will affect its total price of the investment. This blog will review the top five items that determine the price of a new inground swimming pool.
TYPE OF CONSTRUCTION WILL MAKE A DIFFERENCE
This is the number one determining factor in the overall cost of installing an inground swimming pool. Pools can be constructed out of vinyl liner, fiberglass or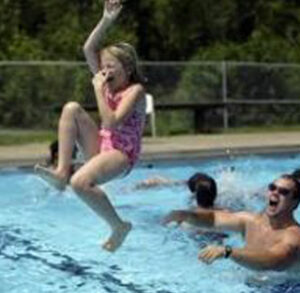 concrete. The pool's starting price will depend upon the material selected, as the raw material cost and overall labor required for each pool type will vary.
Costs vary in individual markets. In the Northeast, for example, vinyl liner tends to be the most economical, fiberglass is generally in the middle and concrete is typically at the higher end of the price scale.   For a closer look into the specifics of each type of inground pool construction, please see other Seasonal World's blogs about various pool types under categories.
YARD CONSIDERATIONS
Yard consideration must not be overlooked during the initial purchase process. In addition to its base price, the site of the pool may affect its cost. It depends upon whether the yard is flat, hilly and/or needs additional site related work before, during or after the installation of the swimming pool. If the yard is relatively flat, there most likely will be little or no added construction costs. On the other hand, added costs will be incurred if retaining walls are necessary on sites with large slopes. This is so the flow of water doesn't affect the pool or any other surrounding structures.
Access could be another potential cost. Most pool companies have standard equipment to excavate and construct swimming pools. If access to a site is limited or restricted and there is no way to get to it through adjoining properties, special equipment may be needed which could result in additional costs.
OPTIONS & FEATURES … SOME MANY, HOW DO I DECIDE?
There is a whole gamut of options and features that a purchaser could ultimately put in a pool. They range from control systems, underwater lighting, robotic cleaners to fully automated cleaning systems, alternative sanitation systems, to automatic covers.  Believe us, the list can keep going and going.
Depending upon the pool builder selected, the cost of many desired options and features can be deferred. For example, heaters do not necessarily need to be installed at the time of construction. A builder who offers "one stop shopping" — from installation, to post installation service will most likely will be able install the desired option or options at no additional cost if effective planned at a later date.
WHAT ABOUT THE OTHER STUFF AROUND THE POOL?
Desired additional needs, not required as part of installation, should be factored into the pool's overall cost. These may include: extended deck work, patios, outdoor electrical work, sound systems, outdoor kitchens, cabanas, fire pits and additional landscaping.
Buyers with higher budgets may seek to make their backyards into a vacation escape of sorts. They may desire
many of the items listed above as part of an overall backyard improvement. These buyers should find a builder with the skills and expertise to handle the entire project.  It will be more cost-effective and they will avoid the headaches of hiring multiple contractors and subcontractors involved in self-managing a construction project.
DON'T FORGET ABOUT THE FENCING
Nearly every municipality in the Northeast requires fencing around the pool or backyard as part of barrier requirements.
The type of fencing and amount of footage needed must be factored into the buyer's budget as the pool will not be able to obtain required final inspections until this is completed.
Investing wisely in an inground swimming pool will pay dividends in fun and enjoyment for years and years to come! Nevertheless, the importance of a working with a builder who factors in all associated cost is extremely important to making sure the plan is well laid out and there are no surprises later down the road.