CONCRETE/VINYL SPECIAL - "CLASSIC RECTANGLE"
Concrete Wall Vinyl Liner Premium Package Included Features
*Click on the titles for more information
CONCRETE WALL CONSTRUCTION
Every Seasonal World concrete wall vinyl liner pool is constructed with a ten-inch (10") nominal thick rebar reinforced continuous concrete wall that forms the outer pool wall and entry step of the swimming pool. All concrete used is a 4,000PSI strength mixture and the rebar is a dual band of 3/8" steel. EVERY SEASONAL WORLD CONCRETE WALL POOL IS CERTIFIED AFTER INSTALLATION TO BE SELF-SUPPORTING WITH OR WITHOUT WATER.
TEMPORARY BARRIER FENCING
Erected both during and after construction.
PORTABLE RESTROOM
Seasonal World cares & respects your property as if it were our own. That is why every project is equipped with a portable restroom for use by all construction team members and crews during the course of your project.
NON-CORROSIVE FILTER SYSTEM – OVERSIZED
Commercial Grade Jandy Filter System in your choice of Cartridge, Diatomaceous Earth, and Sand.
NON-CORROSIVE SELF PRIMING PUMP – OVERSIZED
UL Approved Commercial Grade, 1.5 H.P. Jandy Pump/Motor.
AUTOMATIC CHLORINATION SYSTEM
An automatic in-line chlorine feeder comes with each pool package.
EXTENDED DEPTH SHALLOW END
A CONCRETE WALL EXCLUSIVE
All Seasonal World concrete wall pools include an extended depth shallow end, the finished height is 3'10" compared to standard vinyl liner pool where the finished depth is 3'4".
SKIMMER
Pool comes standard with one (1) automatic skimmers with convenient top loading baskets.
BOTTOM DRAINS
Pool comes standard with two (2) suction outlet drains. All suction outlets are approved by National Sanitation Foundation and comply with provisions of ASME/ANSI A112.19 8a 2008.
PLUMBING
All plumbed lines on each pool are plumbed with a solid 2" Schedule 40 Rigid PVC Pipe. All lines are plumbed and valve controlled with heavy duty swing valves, which are approved by the National Sanitation Foundation.
SMART BOTTOM
Entire bottom of swimming pool including all slopes are hand trowelled to a smooth finish with Seasonal World's sand and cement mix. This ensures a smooth but durable finish.
HEAVY DUTY CUSTOM FIT VINYL LINER
Each liner is custom fit to your specific pool a is made using 100% North American sourced materials. Every Seasonal World liner that is installed is manufactured in the state of New Jersey. All vinyl liners come standard with anti-bacterial agents and UV inhibitors.
CANTILEVER COPING
The industry standard coping for a vinyl liner pool is typically aluminum that is painted white. This package includes cantilever style coping where the cement decking around the pool overhangs the pool and sits atop the liner. This offers superior strength and durability and a look far superior to that of the industry standard.
VINYL COVERED STEP – 6' 2" WIDE
A CONCRETE WALL EXCLUSIVE
Every Seasonal World concrete wall pool comes standard with a solid pour concrete step that is covered with the vinyl liner. This vinyl covered step offers a look second to none and even more this step is over 40% larger than a conventional steel wall entry step.
WALL FOAM
A CONCRETE WALL EXCLUSIVE
Seasonal World will install a layer of wall foam on all concrete walls and entry steps as an additional layer of protection and comfort.
LADDERS AND RAILINGS
Every pool comes with a three (3) step stainless steel deep end ladder and your choice of either two (2) end rails for the entry step or one (1) center rail.
ELECTRICAL WIRING & BONDING
All electrical work will be performed by a licensed electrician. A 240V (using #12 wire) service is ran up to fity (50) feet directly from the main panel box on a ground fault circuit breaker with an on and off switch located by the filter as well as a GFIC eceptacle on a ground fault circuit breaker. All pool walls, handrails, ladders, and equipotential grid will be bonded. All work will be performed in accordance with N.E.C. code.
AUTOMATIC TIME CLOCK
Each Seasonal World pool is equipped with a time clock that allows your main pool pump to turn on and off automatically every day.
CEMENT DECKING
A three (3) foot reinforced concrete patio around the entire pool is installed and hand trowelled to an elegant finish which includes all expansion joints.
COMPLETE CLEAN UP
After all construction work has ended our clean up crews will hand rake disturbed areas of the yard as well as fill in any truck ruts or tie marks. At this time we remove any garbage or debris that may still remain from construction.
POOL SCHOOL
A full orientation on how to operate all equipment as well as the proper maintenance associated with your new pool will be administered at a convenient time for whomever is the primary pool keeper(s). We will give the pool a complete cleaning and vacuuming to remove all construction related debris.
MAINTENANCE EQUIPMENT
• Weighted Vacuum Head
• 40' Vacuum Hose
• 16' Telescopic Pole
• Vacuum Plate
• Nylon Floor/Wall Brush
• 100 Count Test Strips
• Thermometer
• Float Rope
• Skimmer Net

CHEMICAL START KIT
• 25 lb. Bucket 3" Stabilized Chlorine Tablets
• 5 lbs. pH Increaser
• 5 lbs. Alkalinity Increaser
• 5 lbs. Calcium Increaser
• 5 lbs. Super Shock
• 4 lbs. Chlorine Stabilizer
• 32 oz. Algae Preventative
• 32 oz. Water Clarifie

10% DISCOUNT CARD
As a Seasonal World Pool Owner, you will receive a 10% discount on many things we sell. This card can be used for eligible purchases during the summer season as well as Seasonal World's specialty Christmas retail seasons.
SERVICE LONG AFTER CONSTRUCTION
After your pool is completed, Seasonal World is still there for you. Seasonal World has an in-house warranty, service and renovation division that will be able assist you with any needs for the life of your pool.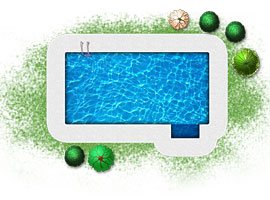 Classic
Dimensions: 16' X 32'
ALL OF THE SEASONAL WORLD QUALITY YOU WOULD EXPECT AND WANT!
NO GIMMICKS, NO CUTTING CORNERS, JUST WELL-BUILT POOLS AT A GREAT PRICE
IMPORTANT NOTICE: All images shown herein are for concept purposes only. Actual pool and included features May vary. This offer expires 12/31/23. All prior purchases are excluded. This offer cannot be combined with any other offers, promotions, discounts and/or sales. Offer subject to change without notice. There are no permitted alterations to this package as set forth herein and no credit will be given for items not taken as part of this package. All installations are subject to formal written agreements, complete with coinciding terms and conditions. Maximum permitted depth at pool's deep end area is 6'0" – any depth greater than this is subject to additional charges. In order for this promotion to be valid, swimming pool construction must be started in Seasonal World's 2024 building season. This promotion is only valid for swimming pools that are built in the following New Jersey counties: Ocean, Monmouth and Mercer. Locations outside of these counties are subject to additional charges. Please speak with a Seasonal World Representative for additional detail and charges. Offer subject to change without notice.