You may be eager to purchase a new inground swimming pool but before jumping in, you should give serious thought to its design. There are key factors to consider that will do more than just contribute to the pool's look.  When the design is properly planned and laid out it will maximize your investment and overall enjoyment of the pool.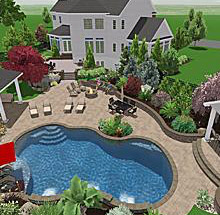 THE "WHO" & "WHAT" OF DESIGN
Design and shape should be considered in the very early stages of the purchase process. One of the important things to consider when designing an inground pool or considering its shape is the "who" and the "what." Simply put, who will be using the pool and what will it be used for. Examples of "who" might include a family with young children, an empty nester or a family that likes to entertain. The answer to this question will help to determine the pool's design and shape. Should it be freeform (one without a conventional shape), geometric or a hybrid of the two? The who and what will also affect the pool's size. It is very important to determine the pool's primary users and its primary uses. Will it be mostly for sport, lounging, hanging out, playing poolside basketball or a combination of all of the mentioned uses?  Will users want it for exercise, therapeutics, casual diving and lap swimming? Uses should play a large  role in deciding the pool's size and shape.
THE YARD IS A BIG FACTOR
Yard dynamics are another highly important factor in the pool's shape and design. Certain shapes work well in certain yards and may not in others. Rectangular pools sometimes do not work well in small, tight or oddly-shaped yards. On the other hand, freeforming pools with no true geometric lines may work very well. Take a hard look at what your yard will dictate and that may give you somewhat of an idea of the size, shape, look and feel the pool should have. Other yard factors that may influence the design could be the actual space where the pool will be built and its proximity to the home. Also does the nature of the yard pose any build challenges for a specific pool design? All of which are important factors and play a role in deciding upon the pool's design.
SIZE MATTERS … RIGHT?
People sometimes are drawn to the freeform shaped pool just because they find it very visually appealing. Freeforms many times start as a rectangular box pool. However, as you start to dabble in radiuses and alter the shape, the square footage is reduced as is the swimming area.  Sometimes with the freeforms, you have to compensate by making the overall size larger. This is to achieve the inherent square footage that you normally get with a geometric shape. A 20×40 rectangle is going to be 800 square feet while the same 20×40 freeform may be only 650-750 square feet, depending upon finished shape of the pool.  A very important factor to consider is how much effective swimming and usage area will be available based upon the shape. A helpful tip to remember that when looking at pool designs, especially from builder to builder is to ask the pool's square footage as that is a true apples-to-apples comparison.
SPECIALTY FEATURES & OPTIONS INFLUENCE DESIGN
Last but not least, decide upon the specialty features and options you want to be built into the structure of the pool as this will significantly influence the shape, size and look of the pool. Do you envision a rock waterfall, an attached or detached spa or a sun deck? Some options work best in certain type pools. A pool with a very large sun deck, for example, will either add to the overall pool size or take away from it. It's highly important in the design phase to include the options you want built into the pool. The features you select will ultimately determine the pool's shape and aesthetics.
IN SUMMARY YOU SHOULD CONSIDER THESE FACTORS WHEN SELECTING AND DESIGNING A POOL:
• Who will use the pool?
• What the pool will be used for?
• Yard dynamics
• Specialty features and options
• Desired pool size and square footage
All are essential design and shape elements to consider. Reputable and established pool builders should offer expertise and design services that can assist you in making the right choices. Once you do, you'll be headed for a wonderful world of fun, enjoyment and good health right outside your backdoor!