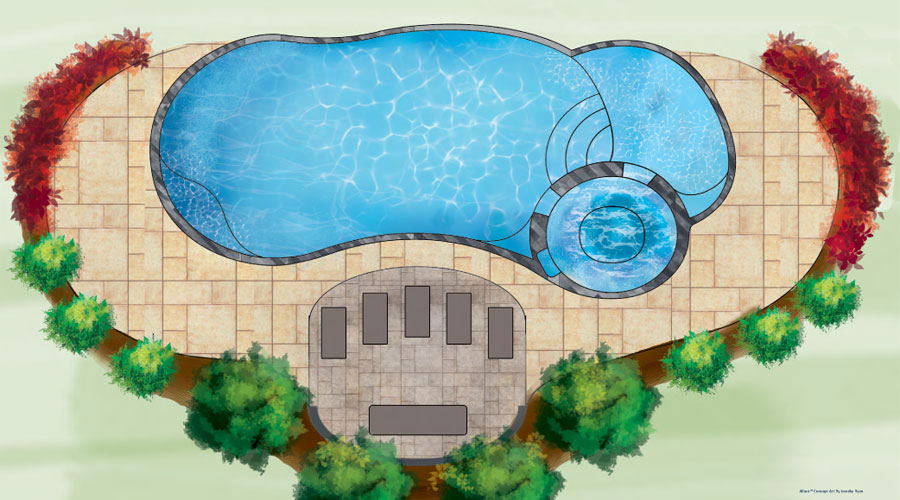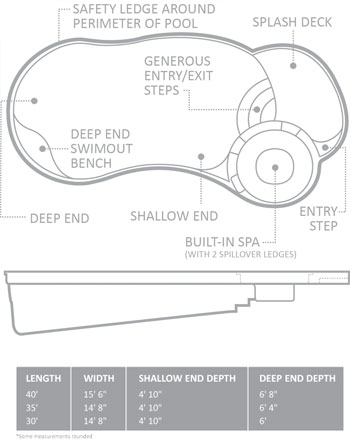 TheAllure
Combining practical features into a beautiful package is the ultimate goal of great design. The Allure™ blends free-flowing curves with a large comfortable spa and a spacious splash deck, all to create one luxurious swimming pool.

Truly a pool for the whole family, The Allure™ provides ample space to swim and play games while simultaneously providing the ideal spot for relaxing and enjoying the outdoors.

The free form splash deck is a unique feature, which provides a spacious, shallow area that is perfect for introducing younger children to the joys of swimming without fear of deep waters. For others, it becomes a relaxing oasis, in which to lounge and mingle with the family.

Adjacent to the splash deck is the large integrated spa that can be fitted with strategically placed pulsating jets, and with its ergonomically correct seating, it creates an ideal place for practicing a variety of calm and comfortable healing routines. The spa has the option of being fully heated for maximum effect, but can also be adapted to overflow through spillways onto the pool and splash deck to create a cascading waterfall effect.

Wide steps lead from the splash deck lead down to the pool floor of the shallow end. The Allure™ also has a convenient swimout bench located at the deep end of the pool, as well as a small corner step to the far side of the spa.

Leisure Pools® has incorporated the most popular features into this pool design to create an Allure™ you just won't be able to resist.
Baby Buys A Pool!
Buying a pool is not that complicated! Watch Baby Helana do it from start to finish. She picks her pool, the color and then watches it being built and installed. Baby Helena shows just how simple it is to buy a pool.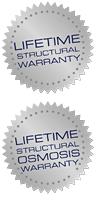 LEISURE POOLS® COMPOSITE ARMOUR™ = LIFETIME WARRANTY
The most important single component in any swimming pool project is the actual pool shell itself. It contains the water you swim in and it becomes the centerpiece that you then build all of your landscaping, paving, patios and lifestyle around.
Installing a swimming pool is a long-term investment and like us, our customers need to feel confident that what they're putting in the ground as their main feature needs to be strong, durable and will last the test of time. The selection of a quality pool shell is a critical decision that you must get right. Unfortunately, there are many manufacturers who say that they build a quality swimming pool shell but in practice they don't.
READ MORE
Every Leisure Pools® model that Seasonal World offers comes standard with the latest technological advancement the Leisure Pools® Composite Armour™ swimming pool. The Leisure Pools® Composite Armour™ swimming pool has been developed through the companies continued advancement in research and development which has resulted in what we consider to be the world's best composite swimming pool. A Leisure Pools® Composite Armour™ swimming pool is the world's best composite pool and is backed by a Lifetime Structural Warranty and a Lifetime Structural Osmosis Warranty.
So how is a Leisure Pools® Composite Armour™ swimming pool different from a standard fiberglass swimming pool? Well it comes down to 4 key elements, being:
Patented Composite Armour™ Core of Strength
Patent Pending Full Vinyl Ester Resin Construction
Composite Armour™ Step Technology™
Exceptional Quality Control
READ LESS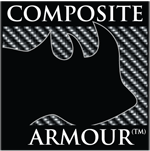 COMPOSITE ARMOUR™ STANDARD AT SEASONAL WORLD … NO EXCEPTIONS!
Composite Armour™ is totally new technology in composite swimming pool manufacturing. This patented new technology is designed to significantly reinforce the composite swimming pool with a strategically integrated laminate that consists of a blend of DuPont™ Kevlar®, Carbon Fiber and Basalt Fiber. We call it our Core of Strength.
READ MORE
Carbon Fiber and Basalt Fiber. We call it our Core of Strength.
High performance fibers have been used in many cutting edge applicatioxns. DuPont™ Kevlar® is used in bullet proof vests, body armour, military vehicles, wind turbines and aerospace applications. Carbon Fiber and Basalt Fiber are used in aerospace and high performance automotive applications. When combined through Leisure Pools®Patented new technology, Composite Armour™ brings a new level of performance to the production of composite swimming pools.
By using Composite Armour™ in the pool shell laminate, we have been able to achieve tremendous improvement in flexural and tensile strength compared with normally constructed fiberglass pools.
READ LESS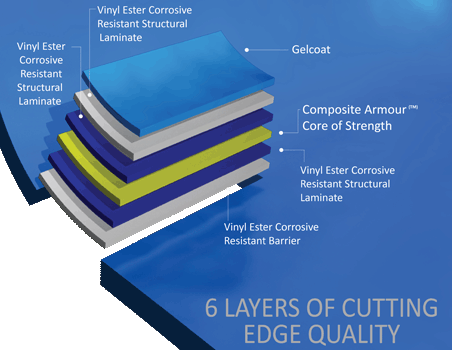 FULL VINYL ESTER RESIN CONSTRUCTION
In simple terms a standard fiberglass pool is made up of a number of layers being:
1. Gelcoat Color Layer

2. Corrosive Resistant Vinyl Ester Resin with Fiberglass Layer

3. Structural Polyester Resin with Fiberglass Layer

4. Polyester Resin Finishing Layer
One of the most important layers, of which has been introduced in the last 20 years, has been the incorporation of a Corrosive Resistant Vinyl Ester Resin layer. Vinyl Ester Resin is a high performance resin that not only provides improved strength properties, but also inhibits water penetration into the laminate, more commonly referred to as "Osmosis".


Many manufacturers, however, will often apply only a single layer of Vinyl Ester Resin onto the swimming pool since Vinyl Ester Resin is traditionally double the cost of a Polyester Resin, a cheaper resin often used to provide bulk to the swimming pool.
READ MORE
Unfortunately, even with this one layer of Vinyl Ester Resin, issues related to Osmosis have continued to appear, resulting in the failure of swimming pools built under this traditional manufacturing method. This may have occurred as a result of manufacturers' attempts to use as little Vinyl Ester Resin as possible, given its cost.
Leisure Pools® Composite Armour™ swimming pool is available with a full Vinyl Ester Resin Construction (excluding the Gelcoat Color Layer). Leisure Pools has taken this course of action in order to offer the following amazing benefits:
Vinyl Ester Resin provides improved structural strength properties over traditional Polyester Resin, therefore enabling Leisure Pools® to offer a stronger swimming pool
By constructing all layers after the Gelcoat Color with Vinyl Ester Resin, Leisure Pools® is able to offer a Lifetime Structural Osmosis Warranty
A swimming pool is something that should last a long time. Owners may spend tens of thousands of dollars on a swimming pool project, and in light of such, the swimming pool shell must last. Leisure Pools® Composite Armour™ swimming pool with full Vinyl Ester Resin Construction is another means by which to ensure quality and durability.
READ LESS
Leisure Pools® SMART Color Range
If you're looking for something a little bit special – then this is the color range for you! These colors are given an added brilliance by having an inbuilt sparkle and shimmer effect. In different lights your pool will look like it has millions of diamonds scattered over the pool surface. Why do we call it SMART? Well this color range also features Nuplex Composite's AQUAGUARD®ECO PLUS Gelcoat which exhibits strong antimicrobial behavior to inhibit the growth of bacteria at the gelcoat surface. This dramatically reduces the chance of algae growing in your pool.
So, the SMART Color Range not only looks good but is also good for you.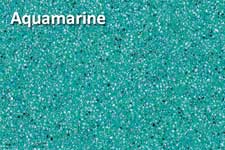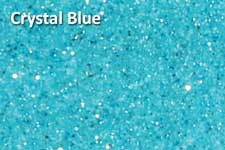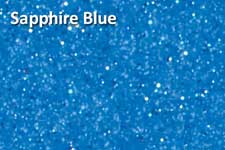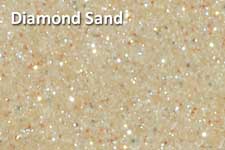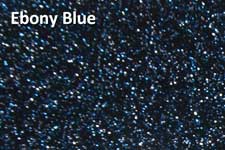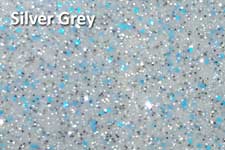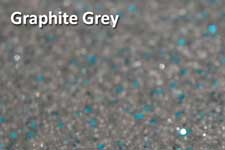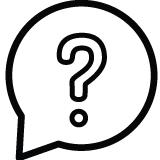 Questions?
We Have Answers.
Do you have questions for our Backyard Living Specialists? We love to answer them so please ask away.